Ulstein Group has sold nearly 70 offshore ship designs since the company started to develop Ulstein designs in 1999. Over 40 of these designs are for X-BOW® vessels, a new hull design that was launched five years ago. 15 X-BOW® vessels are already at work, and the feedback from crew is overwhelming.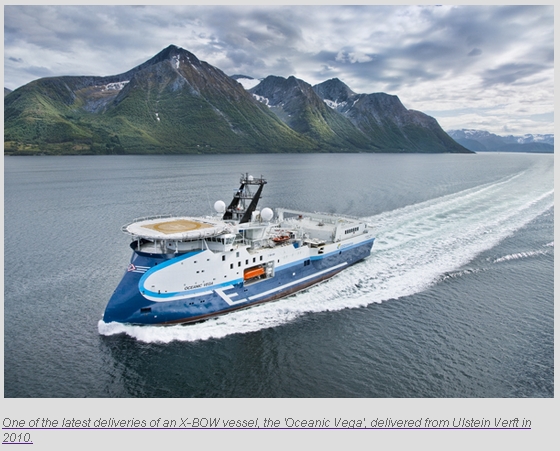 The sailing X-BOW® vessels are of different types, such as PSVs, anchor handling tug supply vessels, seismic vessels, construction and well stimulation vessel. The ships are working on all seas and in all weather conditions.
As captain of the seismic vessel "Oceanic Vega' puts it: "On the voyage from Norway to the United States, we met the tropical hurricane 'Igor'. The waves were 8-9 metres,  and we sailed straight through with 12 knots speed without a problem. It was a very positive experience", he says.
The captain of the offshore construction vessel 'Viking Poseidon' says he has only had positive experiences with the X-BOW®. "The movements are softer than vessels with a conventional bow, and there is no slamming".
The captain of the seismic vessel 'WG Magellan' says that at one occasion they worked side by side with a ship with a conventional bow. Due to heavy seas, the  conventional vessel was moving so much that no helicopter was able to land on it, while the helicopter could land on the X-BOW® vessel. In this work situation, the captain estimated the movements of his vessel to be 20% less than in the other vessel.
Second officer on the seismic vessel 'Polarcus Naila' comments the soft movements: "I love the X-BOW®! We can easily feel the positive effects in bad weather. The ship is behaving much better, and we can more easily keep up the speed. And I manage to sleep easily, even in bad weather".
The captain of the anchor handling vessel 'Bourbon Orca' also mentions the increased comfort for the crew: "The movements are calmer, compared to other bow types. There are other types of movements, and we cut through the water. The crew gets more rest, especially in head seas, as we avoid slamming and abrupt stops.
In bad weather, we don´t have to reduce speed. X-BOW® in head seas is quite amazing! I cannot imagine myself ever travelling with a conventional bow vessel again in winter time", he emphasizes.
"X-BOW® vessels have now been tested over time in several types of ships, and we are delighted by all the positive feedback from users", comments CEO Gunvor Ulstein of Ulstein Group.
More information could be found here!