AVEVA yesterday announced that it is collaborating with ETAP to create a complementary interface between AVEVA Electrical and ETAP's enterprise solution for electrical power systems. The new interface will deliver industry-leading capability for the efficient design, development and production of the most complex electrical installations in all types of process and power plants, ships and offshore facilities. Plant contractors and shipbuilders will gain increased productivity, while their customers can use the same applications for increased efficiency in the lifecycle management of their electrical installations.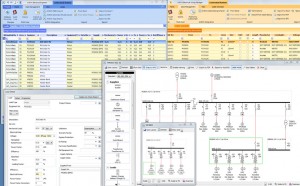 Electrical engineers will be able to create and manage detailed design information and production deliverables using AVEVA Electrical, and analyse their design using ETAP. The interoperability between such powerful applications reduces design effort and enables higher design quality and more accurate early confirmation of materials requirements. AVEVA's approach to openness and inter-disciplinary design enables this integration to offer users a completely flexible approach to electrical engineering and design.
 "ETAP's reputation as the industry-leading electrical analysis tool will make this new interface a very popular addition to the AVEVA portfolio" said Bruce Douglas, Senior Vice President, EDS Strategy and Marketing, AVEVA. "The new interface will allow equipment created in AVEVA Electrical or ETAP to be viewed and edited within each system. Electrical engineers will enjoy the confidence that comes from combining the most user-friendly electrical design software on the market, with ETAP's high-quality electrical engineering analysis."
 Shervin Shokooh, Chief Operating Officer of ETAP, said, "Robust integration of engineering design tools such as AVEVA Electrical with ETAP electrical system analysis solution will enhance productivity and enable a more seamless and efficient work flow for our customers. This new interface validates our open data integration and exchange approach."
 AVEVA Electrical is a feature-rich software suite for electrical engineering and design. Its advanced graphical user interfaces, and its use of design rules and catalogues for data creation, offer maximum workflow flexibility, improving project productivity and design quality. It is part of the Integrated Engineering & Design product suite that includes AVEVA Everything3D (AVEVA E3D), which handles routing and cable segregation in the 3D model. Via a two-way interface, this seamlessly integrates 3D model to create accurate design information.
 ETAP is the global market and technology leader in electrical power system modeling, design, analysis, optimization, and predictive real-time solutions. The Company's software technologies ensure that power systems are designed for optimal reliability, safety, and energy efficiency; when deployed in real-time mode, they enable organizations to manage energy as a strategic asset, maximize system utilization, lower costs, and achieve higher levels of financial stability. Visit www.etap.com for more information.