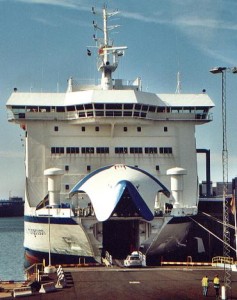 RoRo (Roll-on/roll-off) ships are vessels designed to carry wheeled cargo such as automobiles, trucks, semi-trailer trucks, trailers or railroad cars that are driven or towed on and off the ship on their own wheels. This ships "Roll-on" and "Roll-off" its cargo through its built-in ramps. The ramps could be located at the stern or/and on at the bow. Some ships have ramps installed on the port side of the hull.
RoRo Size & Classes
RoRo ships are not categorized in any special classes and exists in broad variety of sizes, from small ferries to great pure car carriers of up to 8 000 CEU (Car Equivalent Unit).
RoRo Design & Types
General Design
As mentioned in the introduction the RoRos are specially designed to carry wheeled cargo that is "Rolled-on" through its built-in ramps. The machinery could be either medium speed engines or two-stroke engines depending on size and design. Design speed could everything from 8 knots up to 40+ for the high speed ferries.
RoRo Types

RORO vessels include ferries, cruiseferries, cargo ships, and barges and there are a number different variants accordingly.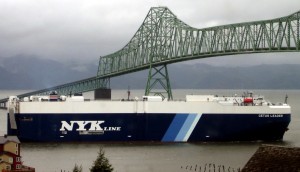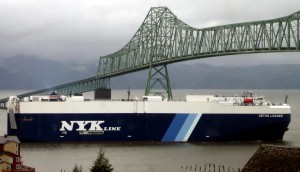 PCC/PCTC PCC is an abbreviation of Pure Car Carrier. Today's pure car carriers and their close cousins, the Pure Car/Truck Carrier (PCTC) are distinctive ships with a box-like superstructure running the entire length and breadth of the hull, fully enclosing and protecting the cargo. They typically have a stern ramp and a side ramp for dual loading of many thousands of vehicles, as well as extensive automatic fire control systems. The PCTC has liftable decks to increase vertical clearance as well as heavier decks for "high and heavy" cargo. A 6500 unit car ship with 12 decks can have three decks which can take cargo up to 150 short tons (136 t; 134 long tons) with liftable "panels" to increase clearance from 1.7 to 6.7 meters (5.6 to 22 ft) on some decks. Lifting decks to accommodate higher cargo reduces the total capacity.With the building of the Wallenius Wilhelmsen Logistics's 8000 CEU car carrier Faust, out of Stockholm, in June 2007 the car carriers entered a new era called the LCTC (Large Car & Truck Carrier).
ConRO
The ConRo vessel is a hybrid between a RORO and a container ship. This type of vessel has a below-decks area used for vehicle storage while stacking containerized freight on the top decks. Examples of ConRo ships such as those in the fleet of Atlantic Container Line can carry a combination of 1,900 twenty-foot equivalent units (TEUs) of containers, up to 1,000 TEUs of heavy equipment, as well as project and oversized cargo on three decks and up to 2,000 automobiles on five decks. Separate internal ramp systems within the vessel segregate automobiles from other vehicles, mafi trailers and breakbulk cargo.
RoLo
A RoLo (roll-on lift-off) vessel is another hybrid vessel type with ramps serving vehicle decks but with other cargo decks accessible only by crane.